Who is Styled Aesthetic?
We started as racing fans, then became racers, and now support racers!
We are a team that knew we could make the process around team apparel & fan merchandise easier and more profitable for motorsport brands
SA History
Playing pool, listening to obscure punk rock and hip hop, an attempt at a professional racing career, and a cool Pabst t-shirt for a bar crawl aren't the usual inspirations to start a business, but that is what worked for Styled Aesthetic.
Kyle Werra and Steve Welk had been best friends since the end of high school, and starting a business was the furthest thing from their minds… for a while.
The Styled Story begins in 2006, three years before Styled Aesthetic was incorporated. After designing a shirt for a pub crawl, Kyle found it difficult to find a screen printer that would print the shirt. Rather than change the design, he purchased a screen-printing press and printed the shirt himself. The one-color press quickly turned into a 4 color press for the following year's more elaborate pub crawl design. As Kyle's printing skills improved, he started producing small screen-printing jobs for friends and family. While Kyle was perfecting his craft, Steve was in the process of winding down his pursuit of becoming a professional race car driver. Steve knew what his friend was up to and thought it might be a lot of fun to work with his best friend on a project away from the racetrack.
With Kyle's incredible screen printing and design abilities and Steve's sales and marketing prowess from his racing career, it only seemed natural for the two friends to start a business. After months of planning, and more than a few rounds of explaining to friends and family their crazy idea, Styled Aesthetic was born in January of 2009 in the basement of Kyle's house in Franklin, Wisconsin. From humble beginnings in a small, dingy basement, Styled first expanded into a 2,000-square-foot shop in South Milwaukee. In this first shop, Styled hired their first full-time employee and a second full-time employee, and then they knocked down a wall and consumed another 1,000 square feet of their building.
In 2015 Styled would expand again, this time taking their program on the road. Dempsey Racing (yes, that Dempsey) was looking for a new vendor to run their trackside sales program. Not wanting to miss an opportunity, Steve and Kyle jumped at it. They knew, however, that they would need a full-time person to handle the new program. Enter Steve's sister, Heidi. Heidi came to the group with the unique background of a fashion design degree, retail sales experience, and motorsports event operations. This unique skill set was exactly the right mix, and the Dempsey Racing Store was launched. The next year Patron Racing was added to the trackside sales tent, followed by Stevenson Motorsports and so on. The Styled Garage, as it is now called, rapidly expanded to serving over 30 different motorsports properties, attending over 25 events a year, along with year-round sales online.
In order to meet the growing demand, Styled made their biggest move yet, literally, in 2022. Staying in their adopted home of South Milwaukee, the company moved into an 8,600-square-foot facility. Expanding equipment and people Styled now boasts a full-time staff of 10 people and can produce up to 1,500 prints a day! Not bad for a crazy idea started in a 300-square-foot basement!
Screen Printing
We have taken the classic t-shirt decoration method and elevated it to the highest level.
The most cost-effective way to decorate large runs, the majority of the apparel we decorate utilizes this method. Over the years we have developed our screen printing method to incorporate the most amount of detail. Items that we recommend screen printing on include:
T-Shirts
Sweatshirts and hoodies
Performance Polos
Performance ¼ Zip and pullovers
Many other items!
Embroidery
For that classic look, we also offer high-quality embroidered apparel for our customers.
Embroidery gives your apparel a more traditional feel. We start with high-quality digitized embroidery tapes to ensure that your brand looks as sharp as possible.
We recommend embroidery on:
Hats
Fleece Outerwear
Heavy Outerwear
Puffy Vests and Jackets
Heat Transfer
Our heat transfer process is second to none. We have developed the process to the nth degree to meet the demands of some of the highest-performance customers. Our heat transfer department is the preferred decorator for Sparco USA for all of their race suits that are decorated in the US.
We use the heat transfer process on:
Rain Jackets
Race Suites
Athletic Jerseys with custom names and numbers
Graphic Design
We pride ourselves on our graphic design ability. From day one, our goal has been to offer unique designs that capture our clients' needs. We work with our clients to understand their goals and then develop design concepts in line with those goals.
Apparel Design
Logo Creation
Promotional Material
Have an idea - we like a challenge!
Meet the SA Team
From start-to-finish, the design team provides all of the guidance and expertise necessary to create awesome team apparel and fan merchandise. Additionally the at track & fulfillment team ensures a great customer experience on the way to achieving a profitable program for your team.
Kyle Werra – Design & Production
A gifted art student in high school, a career path in the arts was going to be Kyle's direction. While in high school, he won a contest to redesign the Franklin High School logo, which is still in use at the school today! Kyle pursued his passion for art in college and received a degree in graphic design from the Milwaukee Area Technical College. His first job out of college was at a firm in his hometown of Franklin, where he worked as a pre-production artist.

Shortly after, he began screen printing his own designs for friends and family before forming Styled in 2009. In 2011 he left the pre-production job when Styled grew enough to become his full-time focus. Kyle runs Styled's art and production departments, and Kyle's passion for art and quality shows in every print from Styled's production facility.
Steve Welk – Sales & Marketing
A lifelong motorsports fanatic, Steve's initial career path was that of a professional racecar driver. Starting at eight, Steve raced karts at an international level before moving into racecars. In racecars, Steve would compete in various professional series as much as the sponsorship he could raise would allow. Once that dream began to fade, he knew a new line of work to augment his motorsport endeavors would be necessary.

Steve heads up the sales and marketing efforts for the company while continuing to maintain his involvement in motorsports through his driver coaching company Linear Sport.
Heidi Welk – Director of Web, Events, Entertainment and Boutique (D.W.E.E.B.)
As a member of the Welk family, Heidi was going to be a race fan whether she wanted to be or not. A strong athlete, she competed in just about every sport in high school, but art was her true passion. Heidi enrolled in college at the University of Wisconsin's Fashion design school. This would bring her to New York City to study at the Fashion Institute of Technology for a year and then onto Florence, Italy, to finish her studies.

After school, she took the normal fashion designer route of becoming the assistant series administrator in the Formula BMW North American race series, where she learned the ins and outs of the motorsports world. Heidi then moved back into the fashion industry as a designer for the regional chain Shop-Ko. It was while she was at Shop-Ko that her brother Steve enticed her to move back down to Milwaukee to head up the small Dempsey Racing Store, and she hasn't looked back since.
Steve Welk
Sales & Marketing
Kyle Werra
Design & Production
Heidi Welk
Director of Web, Events, Entertainment & Boutique (D.W.E.E.B)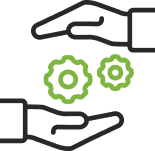 Set a time to talk with Steve
Steve will use your discovery call to gain a better understanding of how SA can help you focus on winning. You will align on your goals and Steve will create a custom plan to serve your apparel and merch needs.